"Don't pass to him. He's playing against us." These were the words of Real Madrid superstar Karim Benzema about a young player in his team. The Frenchman was caught on camera saying this statement to his teammate Ferland Mendy. In his view, the youngster was playing so bad that Madrid would be better off not passing the ball to him for the rest of the match.
A young kid, absolutely derided by the team's talisman? Not many come back from that. So, what do you think happened to that kid?
"I don't know why we don't talk about Vinícius more when discussing the best players in the world. I think he's in the top five," said Benzema this season. In the most startling of transformations, Vinicius Junior at Real Madrid has become a story of overcoming adversity, facing challenges head-on, and in his now trademark style, just dribbling past them.
The 21-year-old today is part of Real Madrid's attack and, with Karim Benzema, currently forms the deadliest offensive duos in football. Vinicius Jr was an integral part of the Real Madrid squad that stormed its way to
a record 35th league title.
Madrid then added a UCL title to their kitty where Vinicius was once again instrumental. To cap off a spectacular year, the forward, who was reportedly close to a loan move to Real Valladolid once, is now set to be rewarded with a new contract, running till 2027. This is the story of Vinicius Jr's transformation.
CHAMPIONS OF EUROPE 😉#LiverpoolVsRealMadrid #Liverpool #RealMadrid #UCL #UCLfinal pic.twitter.com/zjBUt7vjBp

— FootTheBall FC (@FootTheBallFC) May 28, 2022
We at FootTheBall look at the numbers behind Vinicius Jr's incredible season.
Vinicius Jr. is a star 
By the time Real Madrid took on Jurgen Klopp's Liverpool in the UEFA Champions League final at Parc des Princes, Vinicius Jr had played 1021 minutes in the competition. Of this, 966 minutes have come at his favoured left winger position. And he was terrific throughout the Champions League campaign.
According to Smarterscout, Vinicius Jr's link-up play has been rated at 81, while he has been rated at 99, the highest possible rating for dribbling. In addition, he is rated 90 for ball retention. And we have more stats to back up these ratings. Vinicius Jr has six assists this season and, according to FotMob, has created 31 chances, the most in the Champions League.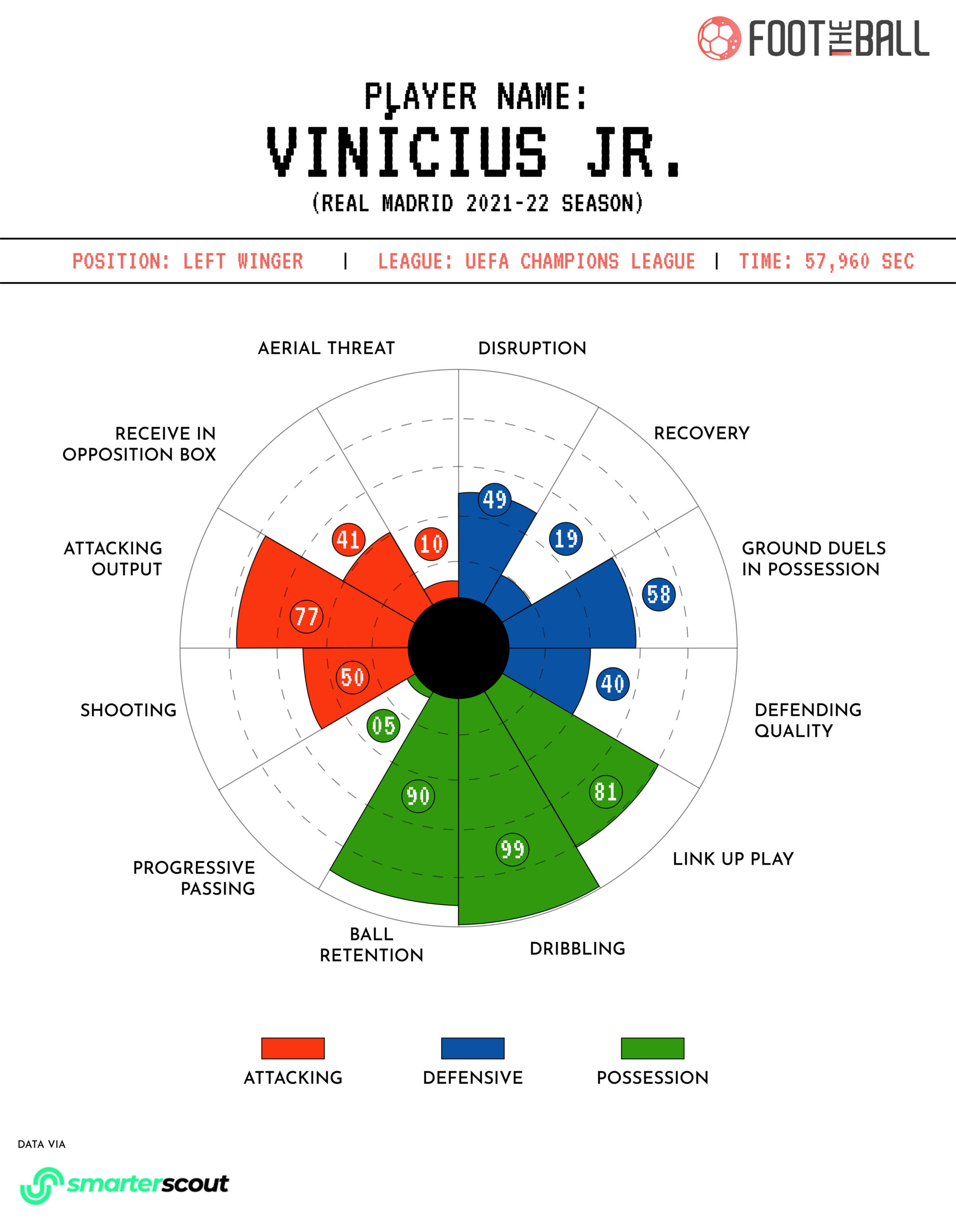 According to FotMob, his expected assists is 3.6, which shows his high overperformance in the Champions League. 
His La Liga stats are even better. He is the third-highest goal scorer and assists maker in the league. And Vinicius has been a consistent shooter, too, with a goal conversion rate of 21.25 per cent in the league, better than Karim Benzema.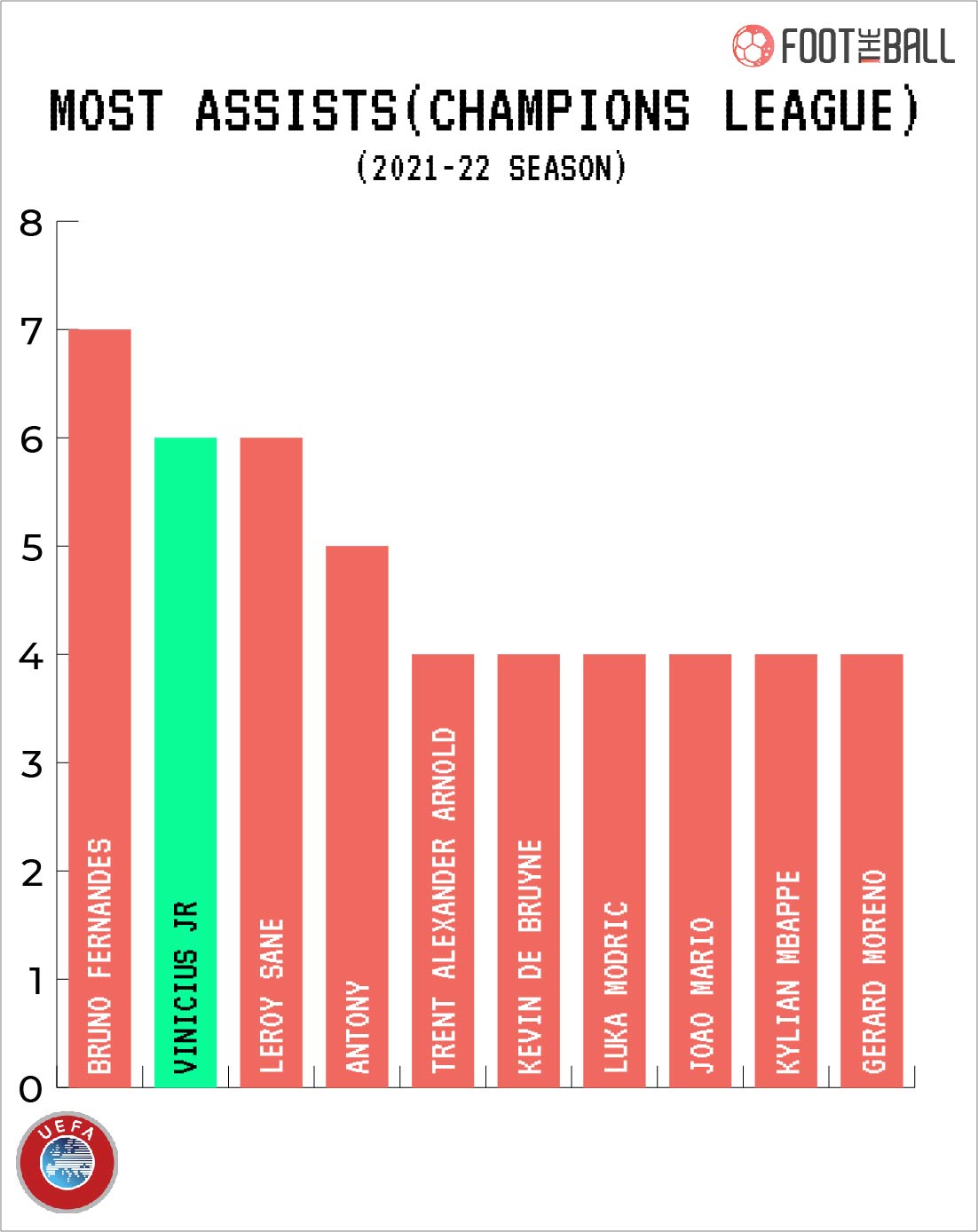 Returning to his dribbling, he is also rated 99 for dribbling, just like the Champions League. And it is easy to see why that is the case. According to Soccerment, Vinicius Jr has completed 96 successful dribbles, the highest in the league, due to which his dribbling rating of 83 is the best in the country.
According to fbref, he attempts 7.33 dribbles per 90 minutes in the last 365 days, better than 99 per cent of attacking midfielders and wingers. Out of this, 3.32 dribbles were successful, better than 97 per cent of attackers.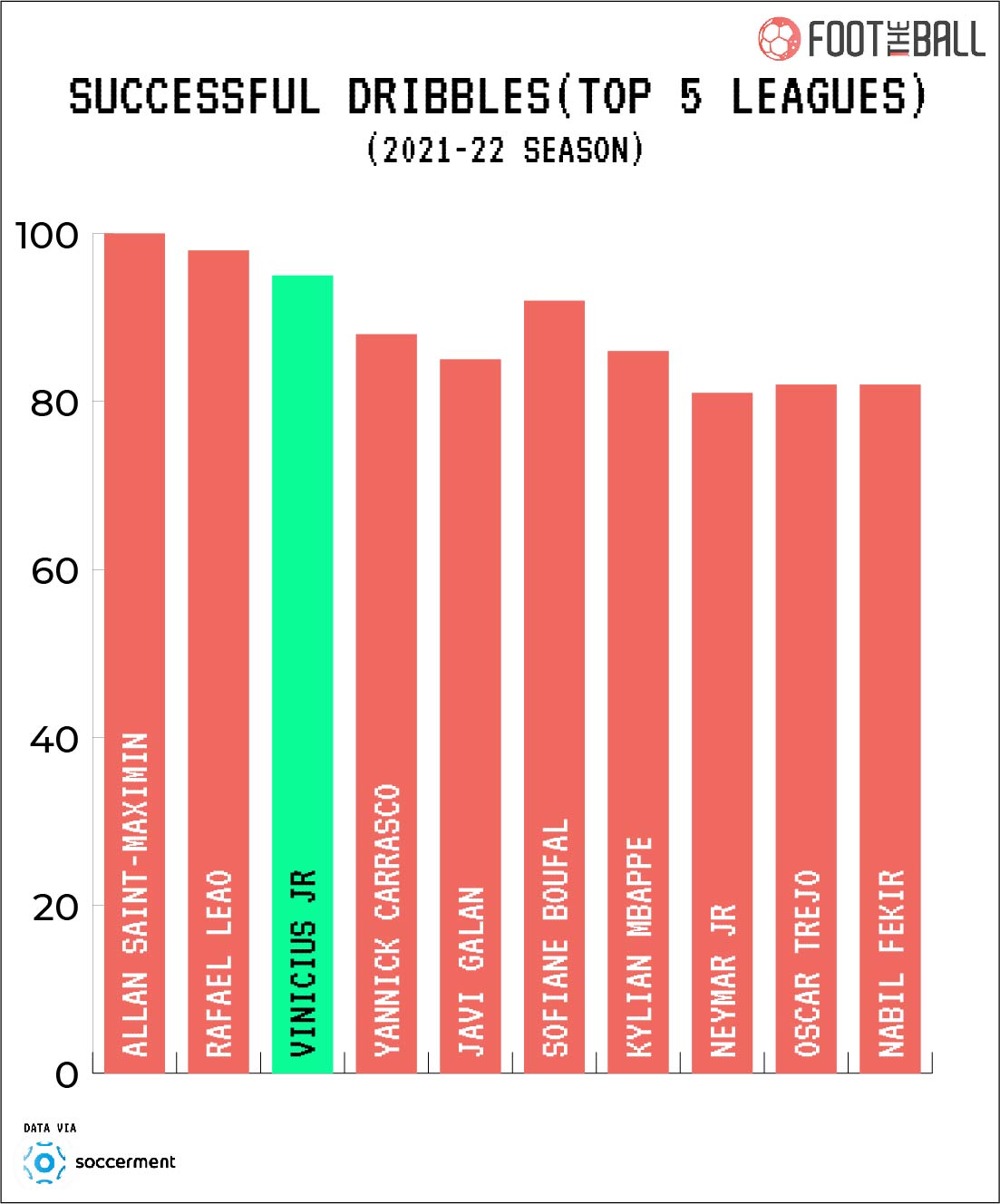 His return of 17 goals and ten assists is the first time a player born in 2000 has ten or more goals and assists in La Liga. 
10 – Real Madrid's Vinícius Junior has become the first LaLiga player born in 2000 year to score at least 10 goals in all competitions in a single season. Early. pic.twitter.com/ngYhIEDOkE

— OptaJose (@OptaJose) November 21, 2021
Read More: Liverpool 0-1 Real Madrid, number 14 for Los Blancos as Vinicius scores the winner
An all-round attacker 
One of the reasons that Real Madrid have been so successful is the versatility of Benzema and Vinicus Jr. The Expected Threat (xT) is a metric that measures a player's offensive threat. This metric takes action preceding the goals, assists, and key passes to determine how a player is involved in a team's attack. 
And according to Soccerment, Vinicus Jr has an xT of 6.93, the fourth-best in Europe. And a more careful analysis of stats shows how great a talent he is. The xT metric is divided into two parts, xT from passes and xT from carries. And it is in the second metric where the 21-year-old shows his true potential. 
With a rating of 4.91 in xT from carries, Vinicius Jr stands head and shoulders above everyone in the top five leagues. The second-best players are Mohamed Salah and Kylian Mbappe at a distance of 3.56 and 3.33, respectively. This shows he is the most destructive player in Europe with the ball at his feet.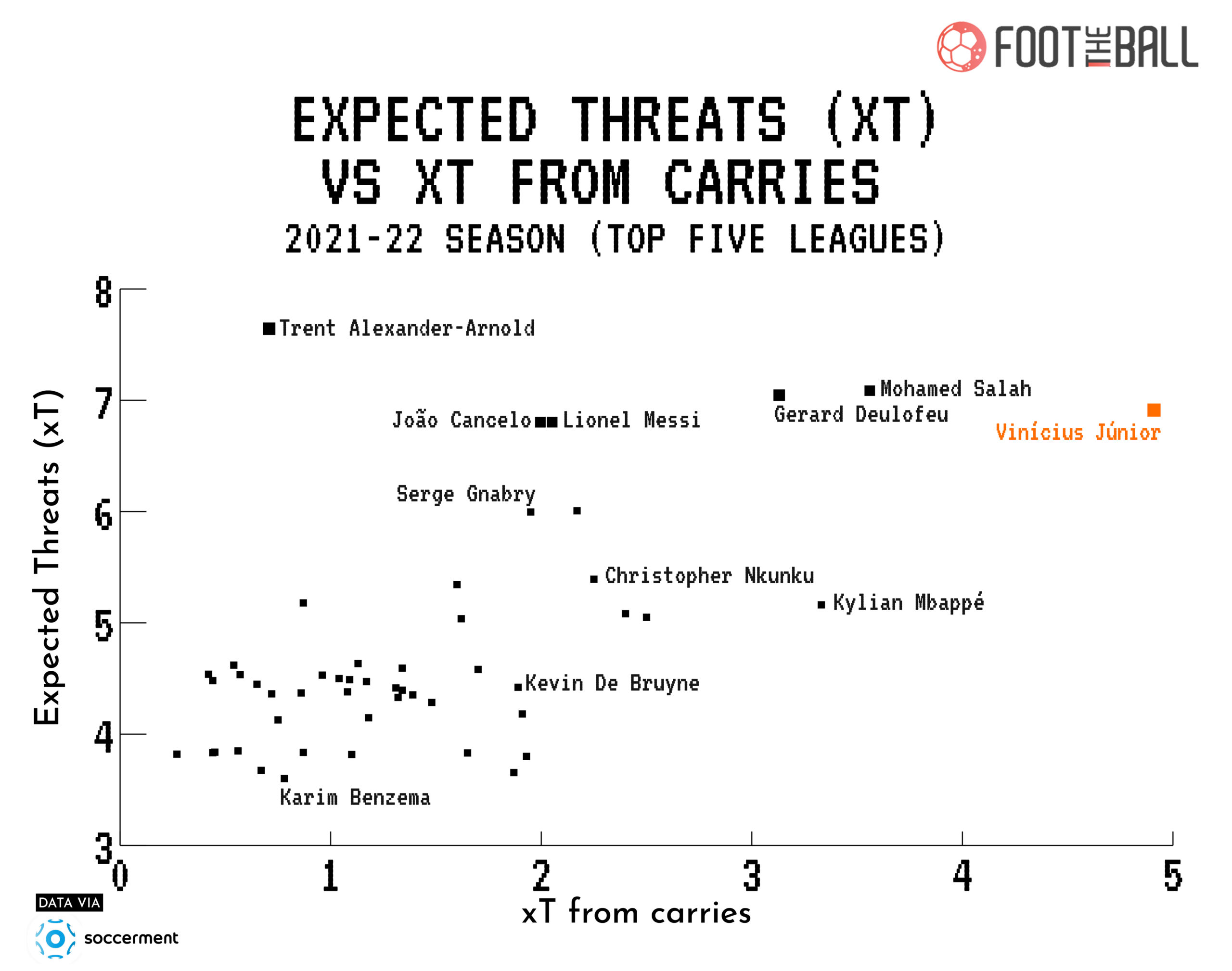 But how do we quantify the impact of xT on his play? 
For this, we need to look at a couple of stats. First, stats from Soccerment show that he is the third-highest chance creator in the league. In addition, he has also won 74 fouls, the fifth-best in the league. This means that fouling him is the best way to stop him, and any failure to do so usually ends up with him creating chances, assists or scoring. This is why he wins a penalty every eight matches, among the top one per cent of attackers.
🏆 HALA MADRID 🏆

14th @ChampionsLeague Title for @realmadrid 🙌#LiverpoolVsRealMadrid #Liverpool #RealMadrid #UCL #UCLfinal pic.twitter.com/LrrpzZiJWj

— FootTheBall FC (@FootTheBallFC) May 28, 2022
Another metric can further verify the credibility of his high-attacking credentials. The Expected Offensive Value Added (xOVA) is a metric which calculates the total offensive contribution of a player.
And Vinicius is the best player with an xOVA rating of 13.83 in La Liga.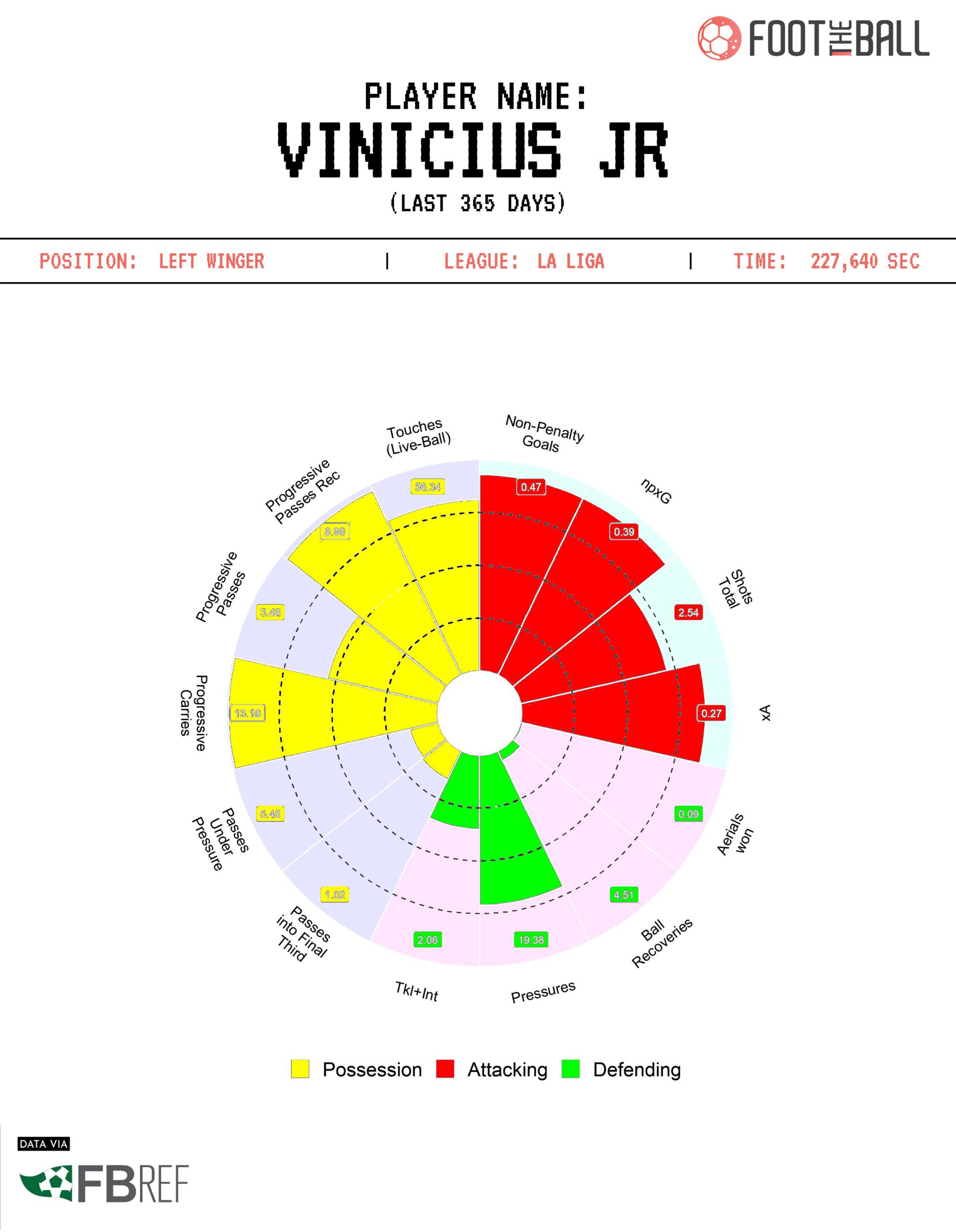 His carry numbers are also relatively high. Fbref stats show that he completes 13.19 carries, among the top one per cent attackers. The same goes for touches in the penalty area, progressive carries distance, and carries in the penalty area.
In case you missed it: Five things we learnt from the Champions League final
What's next for Vinicius Jr?
While Vinicius Jr was always integral to the Los Blancos' future, his importance has considerably increased after the Kylian Mbappe saga. With Benzema not getting any younger, Vinicus Jr has to build on this season and get better. Real Madrid have already shown their trust with him with a new contract reportedly signed and agreed. 
Trent Alexander-Arnold vs Vinicius Jr 👊

Their battle on the wing could play a huge part in deciding the #UCL final. pic.twitter.com/AOnn9G35tL

— Stats24 (@_Stats24) May 26, 2022
Doing so will not only help Madrid minimise the loss in attack due to Kylian Mbappe snubbing them, but will also allow the club to invest the money in other positions for backup to veterans like Luka Modric. 
Vinicius Jr has had a fantastic season which he finished by winning the Champions League for Real Madrid. And by doing this he has shown that he is not Los Blancos' future but present. The kid from Brazil is no longer "Playing against us". In fact, it can be argued that Real Madrid can't play without him anymore.