The attack is an ever-important piece in football. There are so many ways to configure the attack in a footballing system. In the modern-day, we are looking at forward trios or attacking trios. In the recent past, we have seen legendary attacking tridents like MSN(Messi-Suarez-Neymar), BBC(Bale, Benzema, Cristiano) and Salah-Firmino-Mane. Let's take a look at a few of the best-attacking trios we can expect at Euro 2020.
📋 Who has the strongest #EURO2020 squad? 🤔

— UEFA Nations League (@EURO2024) June 2, 2021
National teams don't have regular partnerships and common players for a long time like club football. But when the players do get together they can form amazing trios. They come from different leagues in the world and bring a unique attribute with them. together they can combine them for their nation's benefit.
With the Euros just a whisker away let's list out the top 10 attacking trios at the Euro 2020.
10) CROATIA
MISLAV ORSIC, ANDREJ KRAMARIC, IVAN PERISIC
The Croatian attack massively rests on Perisic's shoulders. They have lost heroes of the 2018 world cup in Mario Mandzukic and Ivan Rakitic. In their absence, Perisic has to step up along with Luka Modric.
Hoffenheim's striker Andrej Kramaric is coming into the Euros on the back of a 20 goal season in the Bundesliga. He has been in fine form in front of goal and would look to translate the form into the national team. Orsic on the other hand is a speedster on the wing. With his extreme pace and dribbling, he can threaten defences.
100 caps ✅
Goalscorer ✅

🇭🇷 Perišić scores in Croatia's pre-EURO friendly 🔥#EURO2020 https://t.co/LlN8PkOG8S pic.twitter.com/jlocXNOPqh

— UEFA Nations League (@EURO2024) June 1, 2021
The trio can combine effectively to help Croatia continue their rise in world football as dark horses. They're in a Group-D with England, Scotland and the Czech Republic.
9) WALES
GARETH BALE, HARRY WILSON, DANIEL JAMES
Gareth Bale is undoubtedly Wales' biggest weapon at the Euros. The winger has discovered his best self in London whilst on loan at Tottenham Hotspurs. He left Madrid on loan to get some minutes under his belt and get back to match fitness. A slow start to life soon exploded as he looked like vintage Bale at the Spurs stadium. He'd be gearing up for another stellar show at the Euros.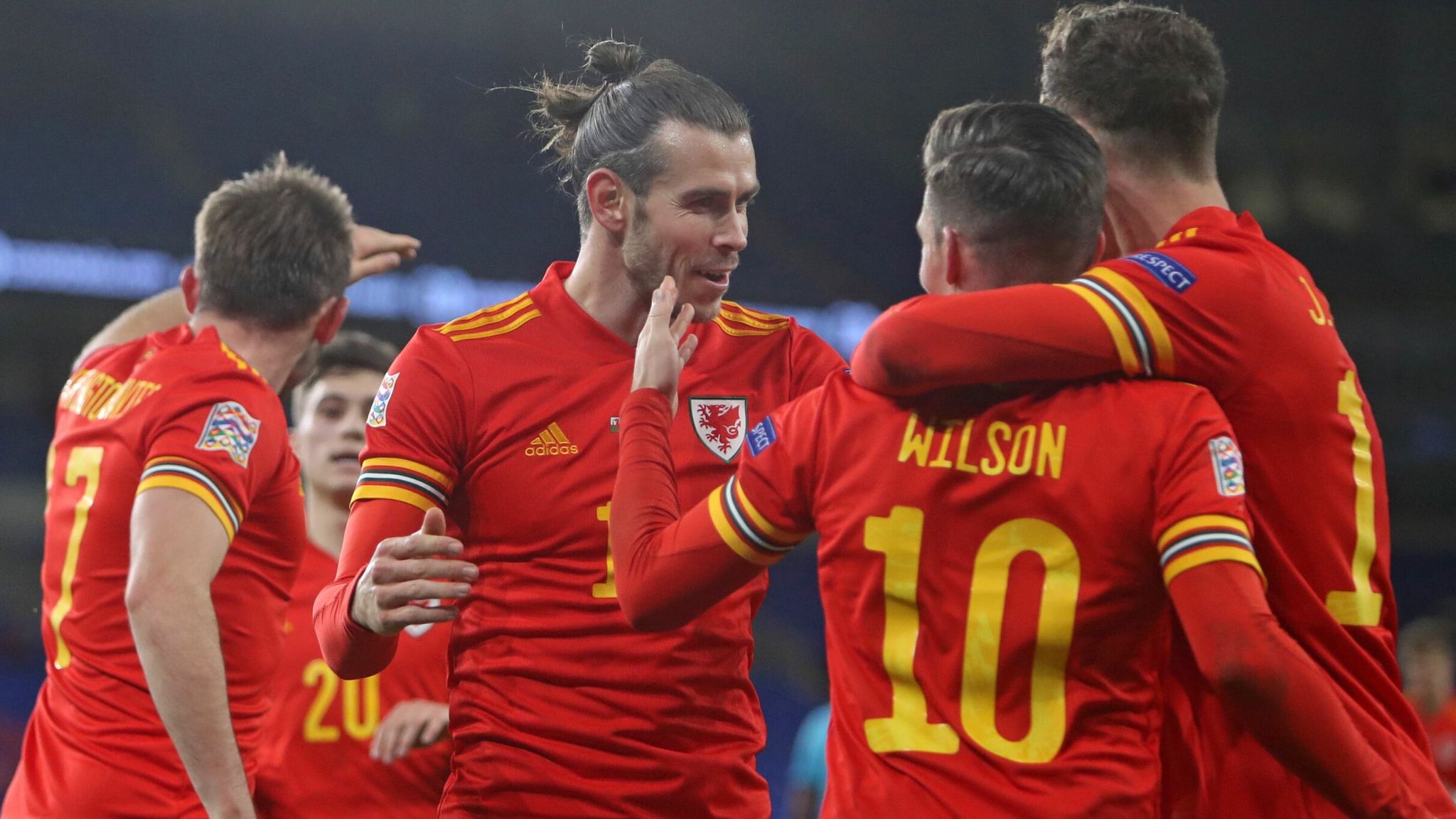 Liverpool's Harry Wilson is a versatile winger who can play as a striker as well. The 24-year-old has excelled as a number 10 for Cardiff City on loan in the Championship. He's more than capable of playing as a centre-forward when asked. Daniel James completed the trio. The young Dan James has struggled for playing time at Manchester United. He has pace and can be a menace for the full-backs on either wing.
Wales had a surprise run to the semis at the 2016 Euros. Bale played an instrumental role then and would be looking to repeat those exploits. He has a young squad to aid his cause this time. Though they were rocked by the Ryan Giggs scandal, Robert Page the interim coach has to manage his troops well.
8) THE NETHERLANDS
STEVEN BERGHUIS, LUUK DE JONG, MEMPHIS DEPAY
Depay is an undoubted star for his club as well as his country. He was the driving force of his Lyon side with 20 goals as they booked a Europa League spot. When he was deployed as a single striker for the Dutch national side by Ronald Koeman he exploded with 6 goals and assists in 6 games. Now under Frank de Boer, he's playing as a left-winger. This summer is important for Depay as a move to FC Barcelona might be on the cards after the Euros.
25 Netherlands goals for Memphis Depay!

He has more international goals than:

Marco van Basten (24)
Dirk Kuyt (24)
Johan Neeskens (17)
Ruud Gullit (17)
Marc Overmars (17)

Equal with Rafael Van der Vaart on 25!

Halfway to Van Persie's record of 50 pic.twitter.com/M0jZRYzcgW

— Dutch Football 🇳🇱 (@FootballOranje_) June 2, 2021
Luuk de Jong had an underwhelming season in Seville but still is an important part of De Boer's plans for the national team. his role differs in the national team as he plays as a target man that brings wingers like Depay and Berguis into play. A strong physical presence in de Jong is always good. Berghuis is in the prime of his career and enjoyed a good season with Feyenoord. He plays as a right-winger for the Dutch side.
De Boer's experimentation may cost the Netherlands. He's using new formations like 5-3-2 just before the Euros without paying much detail to the player roles. The coach must be cautious and use his tried and tested formula that would help the attacking trio prosper at the Euro 2020.
7) ITALY
FEDERICO CHIESA, CIRO IMMOBILE, LORENZO INSIGNE
The all Serie-A attacking trio is a wonderful mix of youth and experience. Italy's attacking trio come into the Euros in supreme form as each of them have enjoyed fabulous seasons personally. Having missed out on the last major tournament in the 2018 World Cup they come into the Euros with an appetite and a clear target. Their front three will play a key role in their adventures.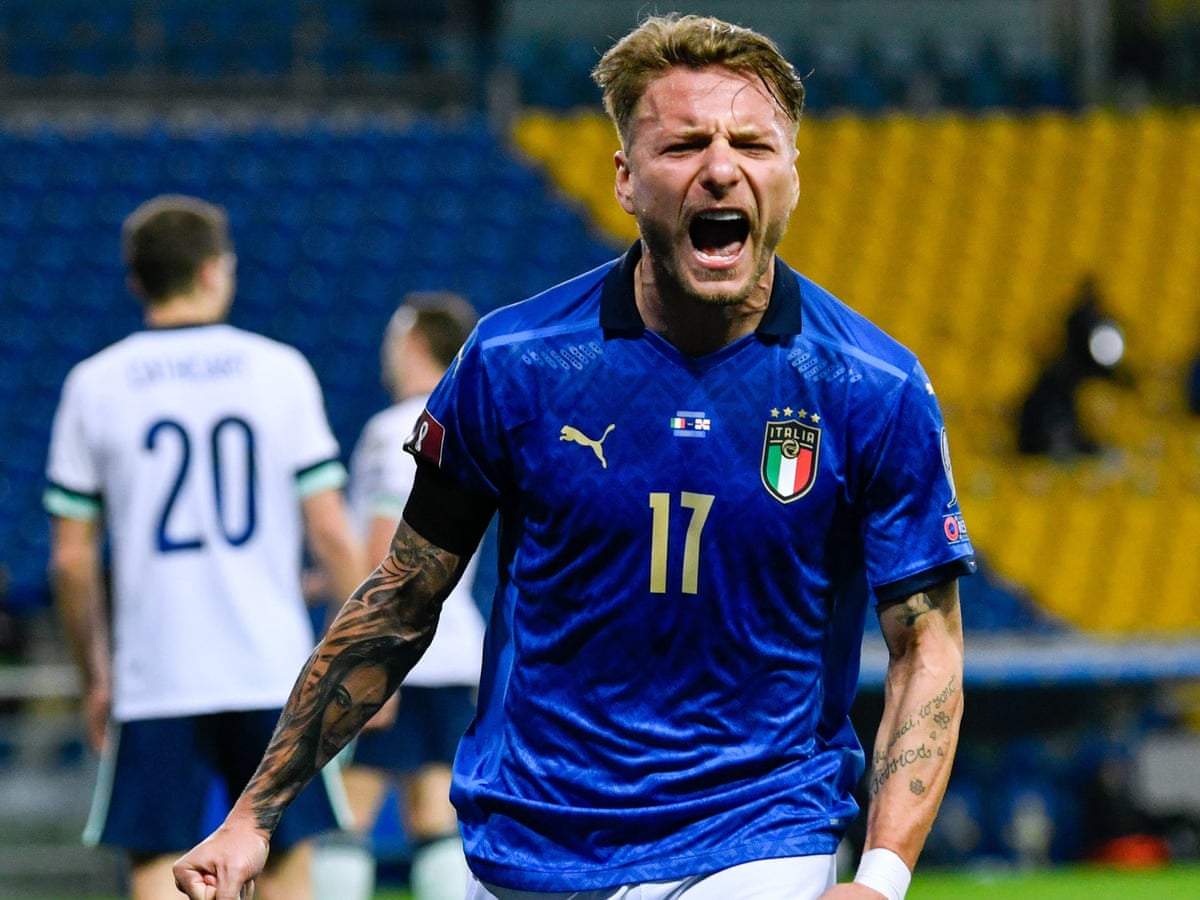 Ciro Immobile had another eye-catching season in front of the goal. He scored 20 goals and assisted 6 times for Lazio as they finished sixth in the league. He's your classic number nine who has predatory instincts in the box. Chiesa has lived up to his potential after a dream move to Juventus. The versatile youngster can play anywhere across the front life but thrives on the right-wing. Immobile is flanked by Insigne on the other side. The little Italian with his trickery and skill is a menace on the wing. The wingers can combine to devastating effect and supply ammunition to Immobile in the box.
The Nerazzurri come into the tournament this time quietly. Roberto Mancini is quietly polishing his tactics to perfection. The Italians who are workhorses by nature may take Europe by storm if their front three clicks.
6) SPAIN
FERRAN TORRES, GERARD MORENO, DANIEL OLMO
Luis Enrique's Spain squad announcement was met with mixed reactions. The ex-Barcelona manager made some surprise exclusions. His attack as a result depends heavily on two youngsters and an experienced striker. They don't have big names in attack, but they surely have guys who can make an impact.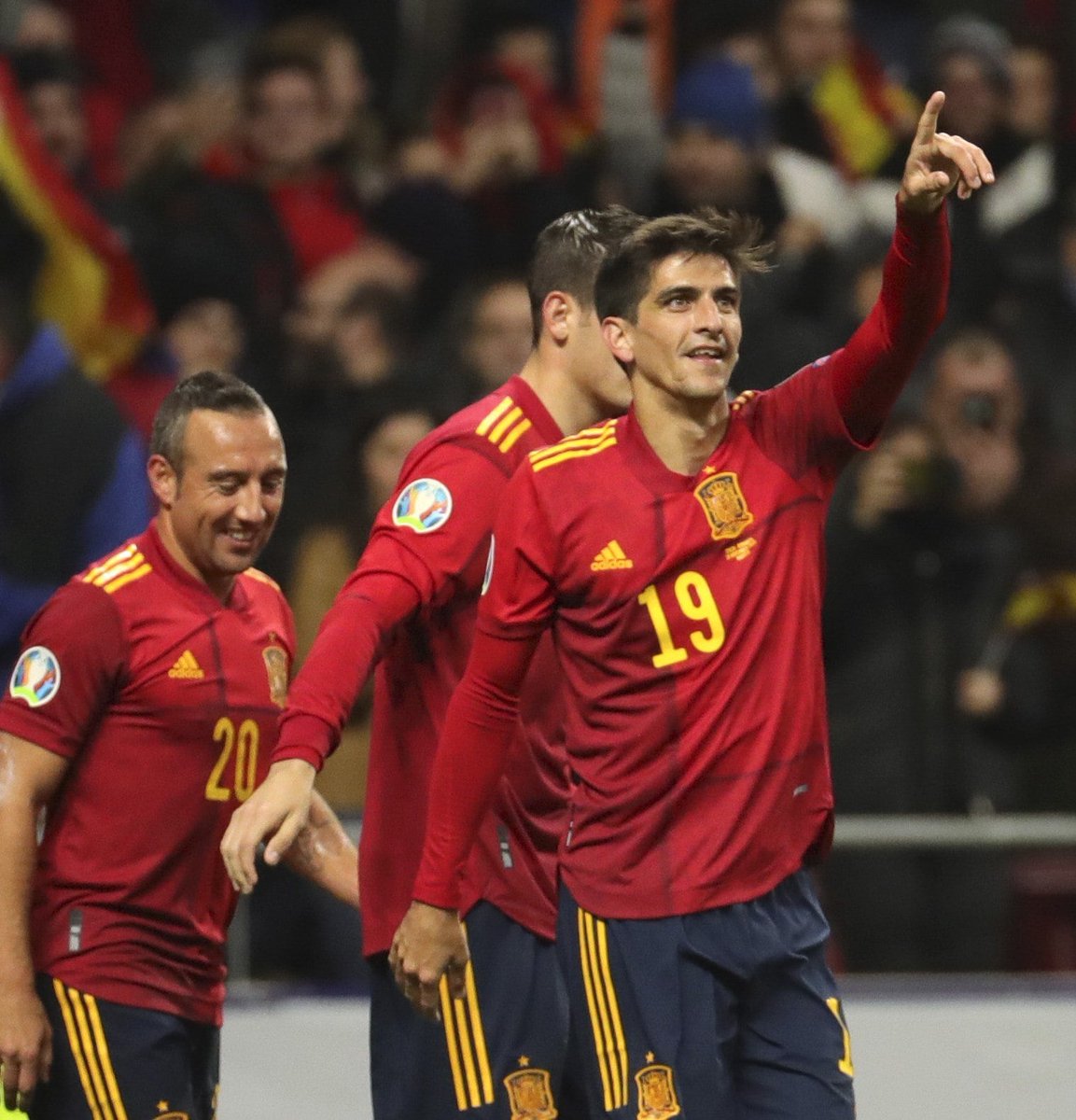 Moreno enjoyed a brilliant season with Villarreal as his 30 goals in all competitions helped them win the Europa League. He scored the all-important opener in the Europa League final. His movement runs and finishing ability is earning him the credit he always deserved. It'll be interesting to see how he gels with youngster Torres and Olmo on the flanks. Olmo is a midfielder naturally but can play as a winger for his national side. A breakthrough season at Leipzig boosted his confidence. Ferran Torres picked his game after a slow start and Manchester City and looks like a solid player.
Enrique needs to spend hours at the drawing board in order to get the best out of his attacking trio at the Euros. This is a huge chance for the players to step up and take their country to another continental glory.
5) BELGIUM
KEVIN DE BRUYNE, ROMELU LUKAKU, EDEN HAZARD
Belgium possesses a deadly attack and looks like genuine contenders at the Euros. Their attack have erased the perennial dark horse tag and made them favourites this time. Roberto Martinez has assembled the squad and would look to get the most out of them at the Euros.
It's #DEVILTIME. 💪🏽🇧🇪 #EUROHyped #EURO2020 pic.twitter.com/pTf80Iss5s

— Belgian Red Devils (@BelRedDevils) May 19, 2021
Kevin de Bruyne is one of the best footballers in the world now. His ball-playing ability, vision, passing, crossing are at the level of Lionel Messi. The midfield maestro pulled strings at Manchester City as they won another Premier League title. He'd miss the first games at the Euros, but he won't be worried as he'd eye a successful run deep into the tournament.
Romelu Lukaku has enhanced his reputation as one of the best strikers in the world. He spearheaded his Inter side to the Scudetto. Eden Hazard on the other hand is struggling for form at Real Madrid. An injury-hampered season ended and he's looking for a good Euro run to rediscover his spark.
🌟MVP 2020/2021🌟
Migliore in assoluto: @RomeluLukaku9 ! 🔝

Strapotere atletico, tecnica superiore e assoluto trascinatore. I numeri della sua stagione sono straordinari: 24 gol e 11 assist! https://t.co/oNZ4nupzZV#SerieATIM #WeAreCalcio pic.twitter.com/wsnnNCt4fd

— Lega Serie A (@SerieA) May 31, 2021
The red devils are a top-heavy side and their attack needs to fire every time. They are very much dependant on their attacking trio to have a wonderful run at the Euro 2020.
4) GERMANY
SERGE GNABRY, THOMAS MULLER, LEROY SANE
Thomas Muller is the biggest headline for the Die Mannschaft as they kick off their Euro campaign. Joachim Loew who has exiled Muller and Mats Hummels after the 2018 world cup has changed his stance and recalled them into the side. It might be due to their form and also Germany being placed in the group of death alongside France and Portugal. Loew who is set to leave Germany after the Euros expects his attacking trio to give him a respectable exit.
1:1 against Denmark. Good match but we have to work in some details until the start of #em2020. ⚽️👍🏼 #GERDEN #DFB #Comeback #esmuellert pic.twitter.com/XulakFTaLL

— Thomas Müller (@esmuellert_) June 2, 2021
The Ramdeuter has been in scintillating form for Bayern Munich as they won another Bundesliga title. He discovered his spark and was a key man in the engine room at Bayern. He can play a centre-forward for the national team flanked by his Bayern teammates on the wings. Leroy Sane and Serge Gnabry had mediocre seasons this time. Gnabry who was excellent last time failed to hit the same heights this season. Leroy Sane recovering from a long-term injury didn't show his best yet for the Bavarians.
The attacking trio would have no shortage of chemistry as they play together every week. It's only a matter of confidence and keeping a positive mindset through a tough phase. Loew and Muller can inspire them to be better and look to fire as a unit.
3) ENGLAND
JADON SANCHO, HARRY KANE, MARCUS RASHFORD
This attacking trident looks as better as any in the world on paper. In reality, they haven't played together often and they need to gel fast for England to bring the trophy home this time. Personally, each one of them enjoyed fruitful seasons at the club level.
Great to hear @England fans again. A good win to kick off our preparations 💪🏴󠁧󠁢󠁥󠁮󠁧󠁿 pic.twitter.com/r2bkKklTuR

— Harry Kane (@HKane) June 2, 2021
Harry Kane is England's biggest weapon. He has a claim to the best striker in the world title. His all-round play has been sensational. Apart from scoring regularly, he has added link-up play to his game which makes him even more dangerous. This target-man-like role can do wonders for England as it brings wingers into play. Jadon Sancho and Marcus Rashford play on the shoulders of the last man. If Kane manages to release them it's gonna open floodgates for England. Sancho's trickery and Rashford's pace along with Kane's finishing is end-game attacking stuff from the Three Lions.
It all depends on Gareth Southgate and the way he sets his England side up. There are injury concerns for Rashford. If the winger is not fit one of Phil Foden or Jack Grealish can take up the left-wing spot. All in all, England have an exciting front three that can make them contenders.
2) PORTUGAL
JOAO FELIX , CRISTIANO RONALDO , DIOGO JOTA
In Cristiano Ronaldo Portugal have one of the greatest players of all time. They have used him to good effect and won the 2016 Euro. This time around they have only gone on to add two more matchwinners to Ronaldo to assemble a thrilling attacking trio for the Euros.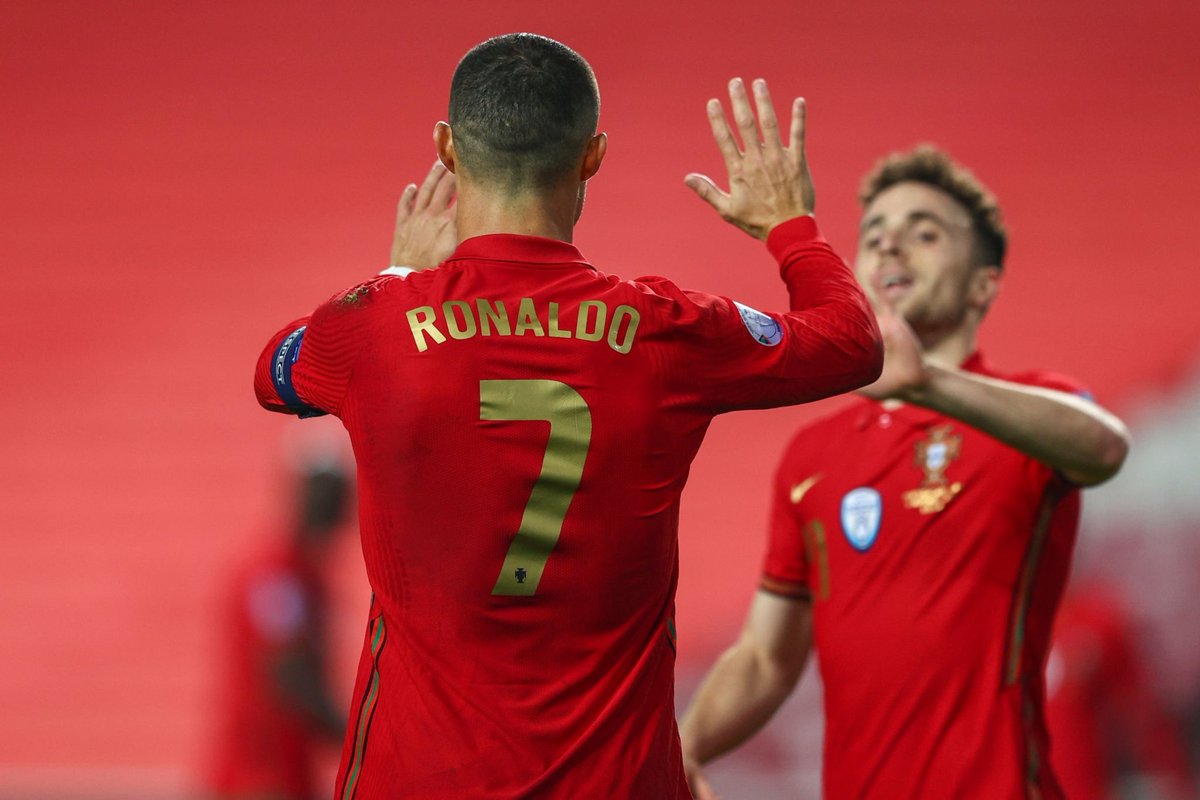 Ronaldo has been in fine form just like he has been in the past million years. The Juventus forward has won the MVP player in the Serie-A as he dragged a mediocre Juve team to Champions League spots. If not for his goals, they would have been languishing outside of European places.
Diogo Jota has had a similar effect on Liverpool. A high-flying Liverpool side has crashed this season and Jota who just made the move to Merseyside was their saviour many times as he scored crucial goals. He also made himself a trusted member of the Portuguese squad. Felix has underperformed for Atletico in their title-winning season. He'd like to get back to form when it matters the most.
Portugal are placed in the dangerous group of death. Given they are the defending champions there are massive expectations on them. Their attacking trio has to be at their very best to escape the group and defend their title.
1) FRANCE
KYLIAN MBAPPE, KARIM BENZEMA, ANTOINE GRIEZMANN
The Les Bleus possess the most in-form attacking trio in world football. Each name in the trio is enough to drive daggers through the hearts of defenders. Combine them and we are in for an explosion. The World Champions have the firepower to conquer Europe and avenge their 2016 Euro final loss to Portugal.
Post training mood with the phéno 🔥🤙🏼⚔️👍🏼 #Nueve #charbon #KM pic.twitter.com/1K3Eb2U1ei

— Karim Benzema (@Benzema) May 28, 2021
Kylian Mbappe is the most happening footballer in the world now. His pace, skill, finishing make him what he is today. He'd be hungry for a title as his PSG side failed to win the Ligue-1 title despite all his efforts. Karim Benzema of Real Madrid was in such good form that Didier Deschamps recalled him into the national side after a five-year exile.
The veteran striker in the form of his life has been scoring and assisting for fun this season. Antoine Griezmann after a trubulent start ta Barcelons has found his feet. He's looking every bit of a player that drove France to the 2018 World Cup triumph.
The trio are excited to play with each other. The group of death gives them the ideal situation to announce their intentions to the rest of Europe. A positive start and a firing attacking trio right from the beginning would carry them to the title at the Euro.