With Euro 2020 quarter-final bracket set, we have some intriguing matches on our hand and one of them is the clash between Denmark and Czech Republic. 
Against opponents as different in terms of quality and style as Finland, Belgium, Russia and Wales, against different set-ups, in different rhythms and under different circumstances, Denmark have excelled in all games. They might have lost their first two opening matches, but since then the intelligence and tactical maturity of the group has prevailed and hence they find themselves in the quarter-finals.
On the other hand, the Czech Republic delivered the tournament's first upset by eliminating a considerably stronger team in Netherlands, demonstrating that a collective effort with a strategy always beats flamboyant individualism without structure.
Now with Denmark and Czech Republic all set to lock horns in the Euro 2020 quarter-finals, the contest is bound to be a tactically rich one.
FootTheBall has identified three key matchups that might be crucial in deciding this encounter.
ANDREAS CHRISTENSEN VS PATRICK SCHICK
Andreas Christensen and Patrick Schick have both been instrumental in their respective countries' march to the quarter-finals and are bound to cross paths more often than not during this encounter. 
Christensen delivered a defensive masterclass in Denmark's round of 16 triumph against Wales, assisting the Dynamites to achieve their first clean sheet of Euro 2020. However, his defensive brilliance was masked by his top-tier banger from outside of the box. The 25-year-old is affectionately dubbed as 'Danish Maldini' by Chelsea supporters for his calm defensive approach, seldom giving unnecessary fouls, and is certainly living up to the big name. 
🇩🇰 Defended well, stepped into midfield when needed and scored a vital goal. Andreas Christensen 👏@Heineken | #EUROSOTM | #EURO2020 pic.twitter.com/VbtRMiDXK2

— UEFA Nations League (@EURO2024) June 21, 2021
Christensen's strongest trait, for which he is criminally underappreciated is his ball stability and passing ability from the back. And his 91% passing accuracy in Euro 2020 backs up that claim. He may not be the quickest or strongest center-back, but his poise, tactical understanding, and positioning sense make up for those weaknesses. He'll be eager to showcase his defensive composure against a Czech Republic attack that has been firing on all cylinders lately. And the man he'll want to keep in his pockets is Patrick Schick. 
Patrick Schick is the head honcho of the Czech offence and has been one of the tournament's standout performers. Many assumed his opening match performance against Scotland was just a fluke, but he has routinely silenced all the naysayers. With venom coursing through his left foot, every shot he unleashes appears to be a gunshot from the 'Schick barrel'. With 4 goals already, the 25-year-old has been a cheat code.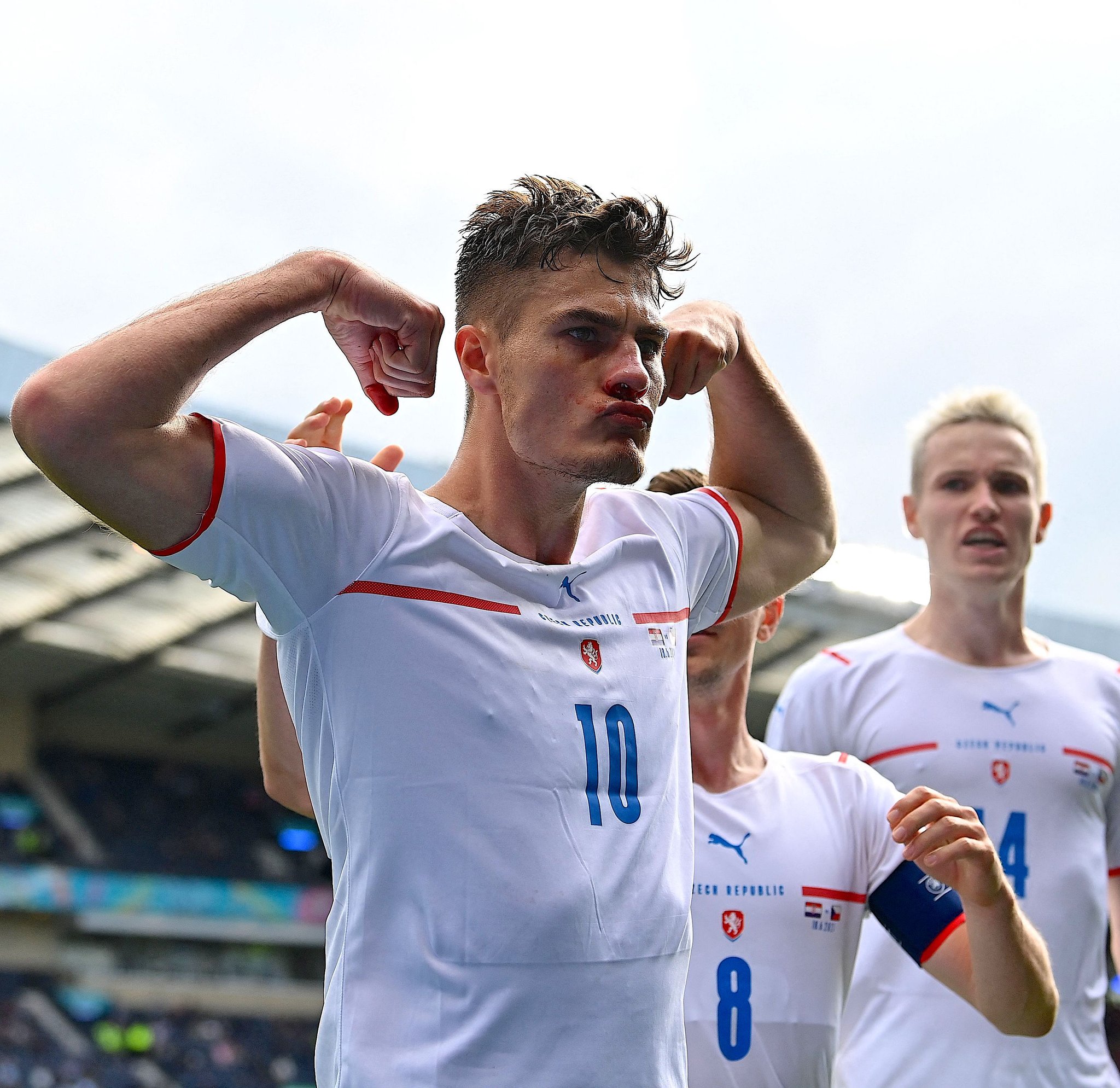 His 6'1 stature obviously makes him a menacing aerial presence inside the box and a reliable reference to hold up play. But he is way more than that. When it comes to acceleration, Schick appears to be highly nimble and quick. Schick takes use of this, notably on counter-attacks, and frequently exploits the space behind the opposing backline with dribbles or deep runs to receive. It will be interesting to see whether he would able to find those pockets of spaces to manoeuvre against a strong Danish defensive line.  
TOMAS SOUCEK VS MIKKEL DAMSGAARD
Another player that has been key in Czech Republic's impressive performances at Euro 2020 is Tomas Soucek. Following a strong season with West Ham, the 26-year-old is on a mission to break into the ranks of the world's best box-to-box midfielders. And without any exaggeration, the man is already there. On the pitch, the defensive midfielder is indeed a marathon runner who poses a significant threat to the opposing team on both offence and defence. 
Soucek's game is not one for the highlight reels and is not aesthetically pleasing. He wouldn't make a hundred passes or dictate the flow of the game. However, his aggressiveness on both the offensive and defensive ends sets him apart. His role on the defensive end is to offer that tenacity, and during transitions, he dashes into the opposition penalty box to cause mayhem with his aerial skills. Now against Denmark, who have found their groove and have scored 8 goals in their previous two, he'll comparatively be more focused on the defensive end. And the man who he'll be in charge of containing is Mikkel Damsgaard.  
Football world has run out of adjectives to describe Mikkel Damsgaard, as the maturity that the Dane has exhibited in the tournament is overwhelming at just 20 years of age. But the best part is that everything comes naturally to him since he is always reading and adjusting to the game. He is always looking for solutions and modifying himself on the go. Damsgaard explores many paths, and if one becomes inaccessible, he retraces it to discover fresh ones, all smoothly. 
⚠️ | QUICK STAT

With his goal against Russia, Mikkel Damsgaard has now registered 5 goal involvements (3 ⚽️ & 2 🅰️) in just 3 competitive appearances for Denmark:

⚽️⚽️🅰️🅰️ vs Moldova
🚫 vs Belgium
⚽️ vs Russia

What a talent. What a strike! 🚀#EURO2020 #RUSDEN pic.twitter.com/pLO6rEL4R0

— SofaScore (@SofaScoreINT) June 21, 2021
On the ball, he is a savvy operator. He boasts a special technique refined in the streets of his hometown Jyllinge, and an immense personality. Again, he is a natural artist who does not operate like a robot by following predetermined commands. He does things not because he is told what to do, but because he understands the answer to each and every situation that arises. A veteran disguised as a boy, and the 20-year-old is only getting started. 
Although going against a tough match-up in Soucek, it'll be exciting to witness whether he'll be able to showcase his talent. 

VLADIMIR COUFAL VS JOAKIM MAEHLE
It's the battle of the full-backs, and is bound to be an intriguing one. With Coufal and Maehle acting as the right-back and left-back respectively for their nations, the two will come face to face more often than not. 
Vladimir Coufal is the prototypical vintage defensive full-back, known for his defensive tenacity and aggression. Coufal, along with his club teammate Soucek, enjoyed a breakout season at West Ham and has clearly demonstrated in the tournament that he is no joke when it comes to defence. The right-back isn't afraid to go aggressive and make tackles to gain possession of the ball.  
Vladimir Coufal vs. #NED

🔘 80 touches
🔘 8/12 duels won
🔘 3 tackles
🔘 3 clearances
🔘 2 crosses
🔘 2 fouls won
🔘 1/1 take-on

(Data via @SofaScoreINT)

| #CZE | #EURO2020 | #WHUFC | pic.twitter.com/6SXkvuvh0U

— EPL Statman (@EPLStatman) June 27, 2021
But it's Coufal's mindset and never-say-die attitude that separates him from the rest of the full-backs. He is a Czech warrior who never seems to acknowledge defeat or even concede to an opponent on the field. He may not be as dynamic as modern-day full-backs, but his passing is on par with the best. When it comes to vision, Coufal is a part of an elite company, and much of that is due to his grasp of the game as well as his outstanding technical expertise. 
And now that he'll go up against an attack-minded full-back in Maehle, he'll be keen to show off his mettle.
Right-footed left-backs, whether coincidentally or not, this has been their tournament. It is not a tactical trend so it's believable that it is more by chance and by each team's own unique circumstances, but a few are demonstrating why they can be unexpectedly valuable. More than anyone, Joakim Maehle. The 24-year-old full-back has been outstanding for the Dynamites, displaying his exceptional talent on the biggest platform. 
Joakim Mæhle's game by numbers vs. Wales:

81% pass accuracy
62 total touches
6 attempted dribbles
3 successful dribbles
2 shots on target
1 goal

Enjoying himself at #EURO2020 👏 pic.twitter.com/F4ZhEWKb5c

— Statman Dave (@StatmanDave) June 26, 2021
Maehle's effectiveness stems from the fact that his first touches are always sharp, always focused at being vertical and taking on the opponent. He can also go inside or outside despite being right-footed. Because of his quickness and control, he is usually able to eliminate rivals in 1v1s by carrying the ball. He's been a menace to the opposition full-backs, and it'll be fascinating to see what his attacking brilliance can accomplish against Coufal's defensive grit.