Sir Jim Ratcliffe has been in news recently after his bombshell announcement of interest in owning Manchester United. Fans are eager to know- How will he be as owner? He can't be any worse than Glazers, can he? The Glazers have officially put up the Red Devils for Sale, and Sir Jim Ratcliffe is back in the picture.
Fortunately, there is prior knowledge to be had. Britain's richest man, Sir Jim Ratcliffe purchased Ligue 1 club OGC Nice in 2019 for a reported £88 million. Having been an owner of the club for three years now, there are things to be learned from his tenure. A small idea can be taken from how he has run things around at Nice. First, we take a look at- Who is Sir Jim Ratcliffe?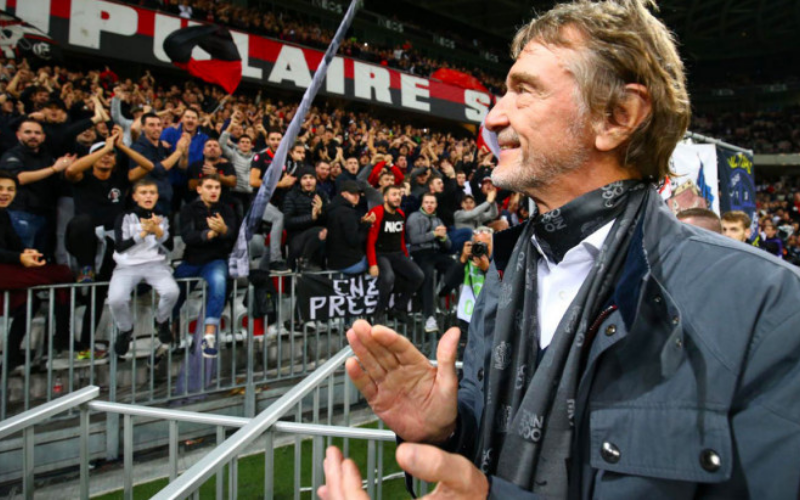 Who is Jim Ratcliffe?
Sir Jim Ratcliffe is a self-made entrepreneur who owns one of the biggest chemicals companies in the world, Ineos Chemicals Group. A chemical engineer himself, Ratcliffe used his knowledge and experience to build his company from scratch. As of now, Jim Ratcliffe's net worth is around £10.9 billion, making him the richest man in Britain.
Sir Jim Ratcliffe is a boyhood Manchester United fan who loves the club from his core
Show your support for him in buying the club by getting your hands on a United jersey
click here

Sir Jim Ratcliffe has been a big football enthusiast since he was a kid and supported Manchester United with all his heart. There were numerous reports of him taking over major Premier League clubs like Chelsea and even Manchester United. Ratcliffe chose to invest in the exciting French club, OGC Nice instead, saying it was a smart money move. He felt that Manchester United were in tatters behind the scene and were not functioning optimally in the transfer market. Ratcliffe was especially cynical about buying Fred for £52 million.
Make no mistake about it, if Sir Jim Ratcliffe succeeds in buying Manchester United, we will celebrate it more than we celebrated the treble in '99. pic.twitter.com/jInUpbHHpq

— UtdFaithfuls (@UtdFaithfuls) August 17, 2022
He received the knighthood in 2018 for his contributions to the business and investment sector. Sir Jim Ratcliffe is no stranger to owning football clubs as he is the owner of the Swiss club, FC Lausanne-Sport. He also owns a cycling team in the UK and has a stake in the F1 team, Mercedes AMG F1.
Sir Jim Ratcliffe and OGC Nice
OGC Nice is a club with vast untapped potential and Jim Ratcliffe was smart enough to recognise that. Although Nice finished mid-table in most of their recent campaigns, they have had their moments. Nice finished 3rd in 2016/17 and 5th in the 2019/20 tournament. The club had their highest finish under his ownership last year, finishing 5th in Ligue 1, good for European qualification.
Jim Ratcliffe's savvy was on display immediately as he installed France's miracle man, Christophe Galtier as manager. Galtier was the one who lead Lille to their first Ligue 1 trophy in a decade after beating PSG in a nail-biting title race. He has gone to PSG now after his impressive work at OGC Nice.
The appointment of a league-winning coach showed Jim Ratcliffe's ambition. He would further go on to solidify his ambition by activity in the transfer market.
OGC Nice in the transfer market
OGC Nice made some good transfers after Jim Ratcliffe's arrival and have kept that trend in this window too. Kasper Dolberg, Adam Onous and Jean-Claire Todibo's arrival at the club last season showed the fans how important the injection of new talent is for a club's performance.
This year, they have made a couple of huge coups in the market. Signings of Leicester's PL winner Kasper Schmeichel and Aaron Ramsey add nous and experience to a young side with an average age of just 24.
It is clear that OGC Nice is targeting players playing players strategically. They are trying to sign young players to secure their future seasons. Moreover, they supplement youthful excitement with doses of experience to create a well-balanced team. Sir Jim Ratcliffe stated that he wants Nice to play in Europe by 2023. After last season's 5th-place finish, Nice are ahead of schedule by one year.
The Jim Ratcliffe Manchester United connection
A young fan was sitting in the stands as United completed one of the greatest comebacks in Champions League history, beating Bayern 2-1 in 1998-99 final to secure a historic treble. Sir Jim Ratcliffe is a boyhood United fan who has previously stated that he wants to own the club. His forays into football are nothing new. After buying OGC Nice, he was also in the race to purchase Chelsea, before Todd Boehly was finalised.
However, due to Ratcliffe's affection for United, this particular move would be something of a fairytale. Not only is he a fan of the club, he now has ownership experience and shares a vision that would be music to the ears of Man United fans.
The production of young talent had been really slow in the OGC Nice camo as the owners before Ratcliffe didn't prioritise youth development. Sir Jim Ratcliffe is a massive admirer of clubs like Ajax who have an amazing youth system in their camp. Jim Ratcliffe's brother, Bob spoke about doing something similar at OGC Nice as well. The owners have also mentioned that they won't buy any player older than the age of 27-28. This would come as a relief to fans of the club that has lurched from one stopgap to another when it comes to transfers.
Sir Jim Ratcliffe on #mufc in 2019: "They haven't got the manager selection right, haven't bought well. They have been [spending] dumb money, which you see with players like Fred." [@TimesSport]

— The United Stand (@UnitedStandMUFC) August 17, 2022
The brothers want to build modern training grounds and facilities for their youth academy and build a professional coaching staff to find the hidden gems playing in France locally. United have recently ramped up their youth recruitment which has given rise to prospects like Kobbie Mainoo, Toby Collyer and Hannibal Mejbri. Expect that to continue under Sir Jim Ratcliffe.
United have long been one of the richest clubs in the world, and as their fans would say, that has been despite Glazers taking billions out of the club. Just having an owner who doesn't actively drain the club's resources has remained a pipe dream for fans for a long time. With Sir Jim Ratcliffe formalising his interest, the optimism has soared. His record as an owner at OGC Nice is doing nothing to dampen it.