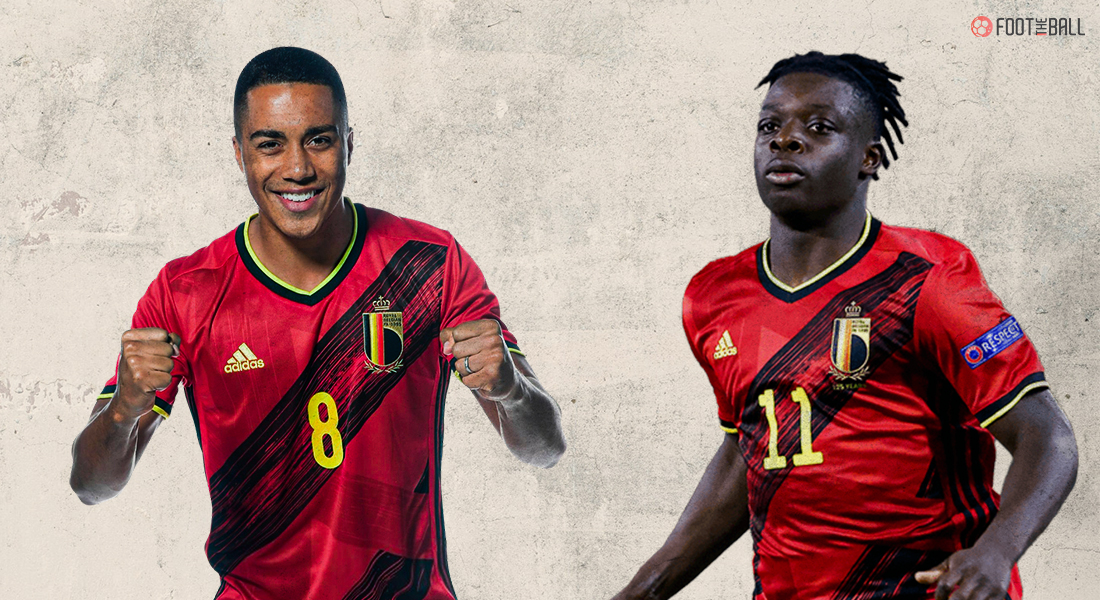 Belgium's Next "Golden Generation"- 9 Players Primed To Take Belgium Into A New Era Of Dominance
The Golden Generation. It is a phrase bandied about so often nowadays that one could be forgiven for thinking that every player who plays for the national team is some anointed world-beater destined for greatness. So, what really constitutes a "Golden Generation"?
Surely a group of players who brought their country from the 66th rank in FIFA rankings in 2009 to a third-place finish in the World Cup just 9 years later counts as a golden generation? 
Belgium was on the outskirts of elite international football, with the euphoria of just an odd upset here and there against the big boys keeping them content. Then arrived a group of players in a perfect storm. Vincent Kompany, Toby Alderweireld, Jan Vertonghen, Kevin de Bruyne, Eden Hazard, Thorgan Hazard, Romelu Lukaku and others rose together and suddenly Belgium was a powerhouse. 
Our #EURO2020 ends here. Congrats @azzurri. #BELITA pic.twitter.com/nuXFMWsemX

— Belgian Red Devils (@BelRedDevils) July 2, 2021
Comparing their talent to their achievements has led some to wonder if Belgium "wasted" their golden generation by not winning a title, with a third-place finish in World Cup 2018 their zenith. Still, their ascent has been remarkable. What's more remarkable is that this "Golden Generation" might not have been the end of Belgium rise, it is just the beginning. 
Here are nine wunderkinds in waiting, ready to rise to the standards set by their seniors and keep Belgium near the top of international football, or to say, another "Golden Generation" of Belgium is here-
SUPERSTARS
While the other players on this list might be itching for a breakout in front of a wide audience, Tielemans is already there. Like Eden Hazard, he is primed to be the face of the new golden generation of Belgium. Aged 24, he has already made a mark on the international scene, with appearances for Belgium in World Cup 2018 and Euro 2020. He is the talisman of his club side, Leicester City, where he won an unlikely FA Cup this past season. A modern, all-action midfielder with an eye for a pass, he could be a supercharged version of what Axel Witsel is for Belgium's current golden generation. 
Jeremy Doku's talent was the worst-kept secret in Belgian football that has now been announced with some aplomb. The lightning-fast, tricky winger ran circles around the Italian defence in the quarter-finals of Euro 2020 and announced himself to the footballing world. A left-footed left-winger, equally comfortable operating on the right-side, Doku plays for Ligue 1 club Rennes. 
8 – Jéremy Doku completed eight dribbles against Italy, a record for a teenager since we have full data for the World Cup (1966+) and EUROs (1980+). Mesmerising. #EURO2020 pic.twitter.com/29oWdkr1Hh

— OptaJoe (@OptaJoe) July 2, 2021
With Ligue 1 mired in financial troubles, Rennes might be tempted to cash in on their most saleable asset in Doku while his value is at an all-time high due to sterling performances at Euro 2020. 
Likened to Sadio Mane of Liverpool, Doku, at this stage of his career, is a more classic winger, in the mould of Adama Traore, in that he likes to get to the byline on the left side cross with his favoured upfront left foot. His quick feet and incisiveness make him a nightmare to defend against, as the world-class Italian defenders would allude to. Doku is primed to be another crown jewel of Belgium's next Golden Generation along with Tielemans, probably taking Eden Hazard's mantle. 
SUPPORTING CAST
Saelemaekers is already making a name for himself for one of Europe's top sides. The 22-year-old, at AC Milan, likes to play on the right-side of midfield. Like Jeremy Doku, he is also a classic winger, with him preferring to run outside of his marker and deliver crosses with his favoured right foot. 
A hardworking player off the ball, he is an important asset for the Milan side, making 32 appearances in the Serie A last season, with 27 of them being starts. With an output of two goals and four assists in these games, it is clear that Saelemaekers needs to work on improving his end product.
Till then, his grit and selfless style of play can be an asset to Belgium too, even more so than Milan, since international football is normally cagey and more a war of attrition. With some work on his end product and dribbling ability, he could be the Yannick Carrasco of Belgium's next golden generation, an always-dependable wide player capable of moments of magic. 
Lokonga has been in the headlines recently with his move to Arsenal all but completed. Therefore, he continues the line of talented Belgian youngsters who made a mark with a team in their homeland before moving to grand pastures, like Tielemans did or Doku and Kana are primed to do. 
Lokonga is a 21-year-old midfielder who is equally comfortable playing as the sole No.6 or the defensive midfielder.  He combines the dribbling ability with an eye for the pass that unlocks defences. He can be really useful against teams that sit in a low block because his long shots are a threat. Defenders closing him down at the edge of the box can free him up to set up his free teammates for a higher quality chance. 
On the defensive side, Lokonga can contest aerial duels with aplomb with his 6' frame and he has adapted his game to boss the ball on the grass too. He has a penchant for cutting off attacks at their base with smart and crucial interceptions. He is not afraid of going in for a tackle and his overall defensive game has been refined due to him playing as a defensive midfielder in some games. 
Arsenal is getting a complete midfielder in terms of skill set who will only improve with time and more reps under his belt. This is a boon for Belgium as Lokonga playing against better competition will cause him to raise his game. There is no direct comparison to any of the current Belgium players, with the closest that can be made is that to Moussa Dembele. Marco Kana and Lokonga can boss the opposition midfielders for Belgium for years to come.  
Another one from the famed Anderlecht academy, Yari Verschaeren has started making waves in his homeland and could be primed to make his mark on the international stage soon. 
A right-footed attacking midfielder, the 20-year-old had ten goal contributions (6 goals and 4 assists) in just 22 games, with 18 on them being starts. This despite him not playing a single minute as a striker. Standing at just 5'6", Verschaeren is a purely technical player who relies on brains over brawns to boss the opposition. 
Mainly operating as a No.10 behind the striker, he has sometimes been used as the right-sided midfielder due to his selfless tracking back. He has a knack for being at the right place when the ball breaks in the box and the finishing ability to put away the chance when it falls to him. Crucially, he is as good a creator as he is a finisher. With more than a key pass per game for Anderlecht, he can unlock defences with a burst of creativity. 
Having already made 6 appearances for the national team, he is destined for a bigger role as goals win games and he has a knack for scoring and providing them. Doing all this despite a diminutive frame, he can be likened to Dries Mertens, who has become a prolific operator for club and country. Perhaps Verschaeren's future also lies as a free-floating attacker upfront.  
Belgium's current golden generation had a collection of world-class centre-backs, with the likes of Vincent Kompany, Toby Alderweireld and Jan Vertonghen being the sorts of "Rolls-Royce" defenders that combine elite defensive ability with jaw-dropping ability on the ball. To continue that trend for Belgium, Zinho Vanheusden has arrived.
Vanheusden is a 20-year-old right-footed centre-back who is contracted to Inter Milan and played the last season for Standard Liege on loan in the Belgian League. Despite playing just eight games last season, Vanheusden made a case for himself to be involved more for Inter or finding a loan elsewhere. Inter rate him highly as he has all the attributes that elite teams require in their central defenders these days.  
Assertive in his tackles and confident in his dribbling and passing, Vanheusden is an imposing figure who enjoys the one-on-ones with attackers as much he likes to bring the ball forward from the defence. Standing at 6'2", he relishes aerial duels with a long jumping reach rarely making him the second to aerial balls. He has adequate pace to keep up with attackers in a foot race, making him the ideal component of a high-pressing team that likes to keep the ball and a high line, just like Belgium. He could be the long-term heir to Toby Alderweireld so Belgium might not miss those zipping cross-field passes from the defence once Alderweireld retires because Vanheusden is just as capable of doing that and more. 
FUTURE PROSPECTS
The youngest player on the list, Marco Kana has been earmarked for greatness since the very beginning of his nascent career. The 18-year-old midfielder plays for Anderlecht in the Belgian league. He made just 8 appearances in the 2020-21 season, with four of them being from the bench. Playing just a total of 347 minutes, Kana's potential still shone through. 
Kana has that priceless line-breaking ability in midfield, be it through a pass or by dropping a shoulder and jinking past his marker. His supreme confidence on the ball in possession means that his teammates find themselves free as Kana sucks in the opposition before playing the pass. Due to his young age, Kana is still not trusted to be the main man in major competitions, as there is an odd error in him here and there. As he plays more matches, those issues should iron out as he becomes more capable of judging his surroundings on the pitch. 
Even though he is raw right now, he possesses all the ingredients that make a world-class midfielder. At the peak of his game, he can boss the middle of the park with his dribbling and passing while cutting off opposition attacks through smart interception, as Moussa Dembele did for Belgium's current generation. 
Unlike the above two players on the list, de Ketelaere is yet to announce himself with a dazzling performance but the hype around him in his homeland is just the same. Currently playing for Club Brugge in Belgium's domestic league, the 20-year-old attacking midfielder is a nifty operator in the hole behind the striker. 
In the mould of a modern attacking player, de Ketelaere is comfortable across various positions, with him playing on the left or as a striker in some games. Already a key member of his club side, he is the creative fulcrum of the team. He is highly creative in his passing, with nearly two key passes per game in the Belgian league this past season. 
Although it can be argued that he is some way behind his above two compatriots in terms of the hype, de Ketelaere's time is soon to come and at the peak of his powers, he could be the creative spark of Belgium's next golden generation further up the field, in the mould of a Nacer Chadli or in Belgium's dream scenario, Kevin de Bruyne. 
The position of a Goalkeeper is generally not one where young talents are given a go. Be it due to the thankless nature of the position or the intense concentration it demands, older heads are given a go here. This makes Maarten Vandevoort's achievements all the more startling.
Vandevoort is a 19-year-old GK for Belgian club KRC Genk. He holds the title for being the youngest GK to ever appear in UEFA Champions League, making his debut at 17 years against Napoli in 2019. Since then, he has gone from strength to strength as he played in 16 games in the league last season after making 4 appearances in 2019-20. He was called up to the senior squad for the gone by Euro 2020 at just 19 years of age as a backup to Thibaut Courtois, showing the expectations around him.
Vandevoort is the archetypal modern-day GK. He does the basic things well, like excelling at shot-stopping and reflex saves. However, it is his ability with his feet that truly makes him stand out. Modern-day keepers are required to be comfortable spraying passes all over the field and act almost as sweeper-keepers due to teams playing with a high line. Vandevoort excels at this particular aspect. If he continues his rise, then it won't be long before Courtois passes the torch to him without any hiccups in transition.
Therefore, despite all the hoopla surrounding Belgium that they might have lost their last chance at a major international trophy, these players are primed to ensure that the "Golden Generation" of Hazard and Co wasn't as good as it gets. Instead, it is just the start of Belgium's period at the top of international football.