In a season where the likes of Chelsea and Liverpool have massively struggled, Arsenal are looking strong to win the Premier League title, and Newcastle United have risen as the new top force in English football, the incredible resurgence of Brighton has been buried. The Seagulls are currently in sixth and, under Roberto De Zerbi, have become a force to reckon with.
The team's rise can be attributed to various things, but one of the most important is their impressive scouting network, which has helped the clubs identify quality players brought in for a low fee over the years. And by far, their most remarkable recommendation has been Moises Caicedo, a man now the centre story of a transfer tussle between Chelsea and Arsenal.  
Brought from Ecuadorian club Independiente del Valle, who also developed Bayer Leverkusen's Piero Hincapie and the wunderkind Kendry Paez, Caicedo has become an integral part of Brighton's midfield in the current season. 
Playing in a central midfield position, Caicedo has been Brighton's controller-in-chief, directing the team's play through his impeccable passing and extraordinary vision. This will require any top club to part with a large sum of money if they want to add the Ecuadorian to their ranks. Caiceo's numbers suggest just why Arsenal and Chelsea are after the Ecuadorian, and FootTheBall break down these exemplary stats.
Moises Caicedo career stats 
Caicedo was one of the most prominent youngsters to come out of Ecuador and had helped his club, Independiente del Valle, win the under-20 Copa Libertadores, scoring a crucial goal in the semi-final against Flamengo. 
After joining Brighton, Caicedo was immediately sent on loan to Beerschot in the Belgian Jupiler league. He would play 12 matches for the outfit before Brighton recalled him in January 2022. And despite playing only eight games in the Premier League, Caicedo was among the top 20 midfielders regarding interceptions and Expected Threats (xT) from carries. In addition, he was also tenth when it came to making successful tackles.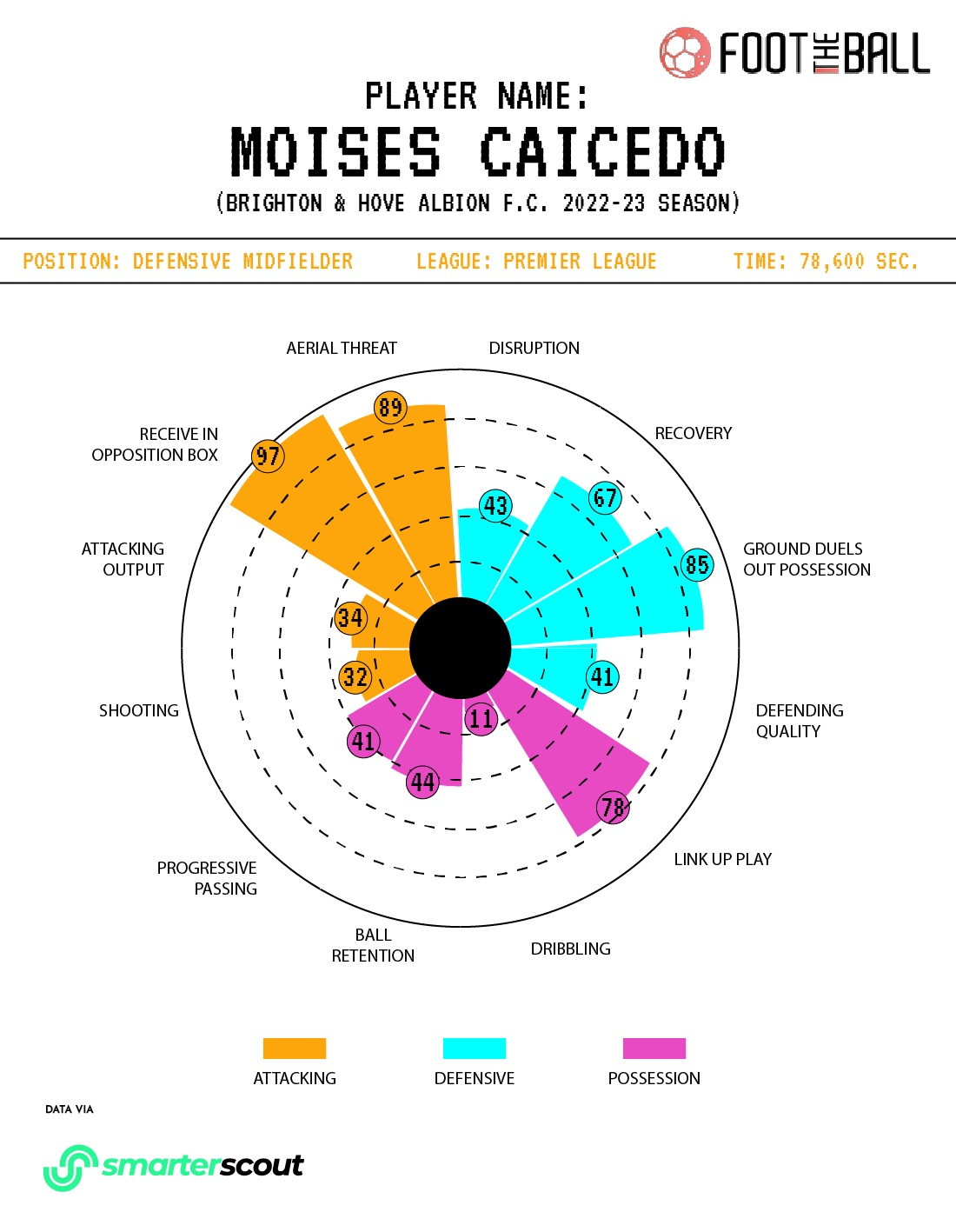 However, it has been the current season where Caicedo has proved he belongs to the top level. According to fbref, in the last 365 days, the midfielder has been one of the finest passers in the game, completing 82.5 per cent of his long passes, which puts him in the top four percentile of midfielders. 
Playing as a box-to-box midfielder, Caicedo has been massive in both the defensive and offensive aspects. According to Opta, Caicedo has won the ball nine times and started an open play sequence that led to a shot with only Rodri, Casemiro and Kalidou Koulibaly ahead of him.
According to data analytics site Soccerment, Caicedo ranks among the top 10 midfielders in terms of interceptions, passing accuracy, progressive passes, successful long passes, successful short passes, and Expected Threat (xT) from passes. 
The 21-year-old has also had 16 interceptions to his name, the most by any player in the league this season. Caicedo has also been an integral part of Brighton's high press. This is evident by his high tackling rate of 0.44 per 90 minutes in the attacking third, which puts him in the top ten percentile of midfielders.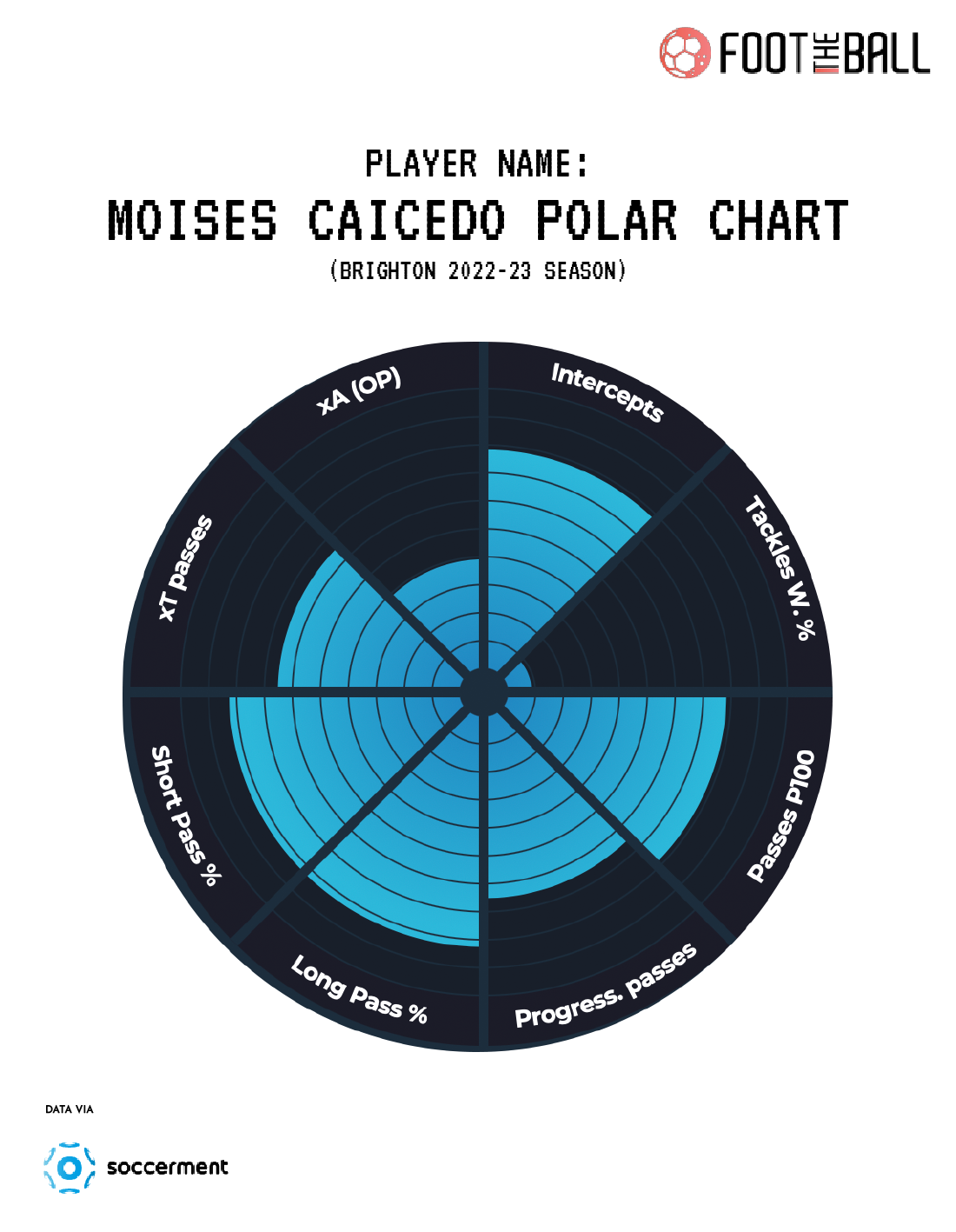 Moises Caicedo's strengths and weakness 
The primary reason for Caicedo's immense success is his ability to cover a lot of ground in a quick time. He has similar attributes to N'Golo Kante and, on top of that, has brilliant passing backed by an extraordinary eye for gaps in the opposition's defence. Caicedo has been played on the left of a two-person midfield, allowing him to use the inside left channel. However, he plays the majority around the left channel.
This way, he not only helps move the ball forward but also acts as a defensive cover for the left-back when he ventures forward. However, he also has the tenacity and defensive awareness to become a full-time defensive midfielder. Caicedo also wins almost 70 per cent of his aerial duels, among the top three percentile of midfielders.
As mentioned earlier, Caicedo is good at stopping the opposition's attacks and quickly moving the ball forward. And these are the traits where he does not shy from taking away risks. It is one of the reasons why he has conceded the second-most fouls in the league. However, his success rate in these scenarios more than make up for his failures which are few. 
Caicedo is a rare mix of attacking and defensive understanding that is rare to find these days. While he is no N'Golo Kante, he is the closest thing a 21-year-old midfielder could be to the Frenchman. However, one thing he has over several of his peers is his perfect long passing which helps in quick turnaround, especially when they win the ball up the pitch. It is one reason Brighton is ranked fourth in the league on the Field Tilt metric. 
Caicedo has all these attributes and is not even close to hitting his peak, making him a sought-after player in the transfer market. 
Read More:
Moises Caicedo transfer prediction 
Chelsea and Arsenal are both chasing the talented midfielder, which speaks volumes about his talent. Any team signing Caicedo will have a player who could play at the top level for at least ten years. Plus, his versatility allows him to play both as a number six and a box-to-box number 8. 
He will also bring dynamism to the middle of the park, allowing teams to make quick transitions while moving the ball forward. However, it remains to be seen which club he will join. The Ecuadorian has already missed Brighton's training and, as a result, will not play against Liverpool.
While Chelsea want to add him as another example of their unique transfer strategy, Arsenal want one more quality midfielder given their lack of options. This has become more evident after Thomas Partey's injury.
With two desperate top clubs chasing him, Caicedo could be the star signing of this entire winter transfer window. And wherever he goes, Caicedo is bound to become a star.